Brazilian Mask
A soothing and moisturizing mask designed for post-Brazilian waxing. The Trace Elements in the mask is derived through the state-of-the-art Quantum Technology. This simply means that the active ingredients are now even smaller in molecules that speed up the absorption by the skin. This mask helps to repair the newly-waxed skin, tightens and brightens the skin. Leave on for at least 20 minutes.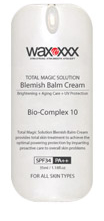 Baume Anti-Tache
Blemish Balm Cream
WaxXXX Blemish Balm Cream is a 4-in-1 daily solution for a "look good" and "anti-aging" concealer with sun protection factor.
This cream contains plant extracts effective for:
Lightening of skin discolouration
Anti-wrinkle with moisturizing extracts
SPF34/PA++
An effective foundation that blends into all skin tones.